May 20, 2022


Good day, Eve. I'm not sure if you remember me, but I was fortunate to obtain my dog, Brody - Bleugras 6 Days On The Road, from the Paulo & Shebang litter (01.27.10) Brody is going strong and healthy; when people ask his age, they comment on how spry he is.

Brody has been my best friend for 12 years, and he has opened my eyes to many things. I've traveled to South Dakota for the first time and several more after that , and Brody and I have guided hunts at Halter Wildlife, one of Wisconsin's most elite hunting clubs. Not for the money, but to get my dog out in the field where he belongs. I'd say he's had thousands of birds shot over him, and that experience has paid off in the form of repeated requests for Brody in the field.

There's nothing like a GSP as a companion, from hearing his footsteps following me around to resting his chin on my knee while sitting on the couch and literally falling asleep sitting down wanting to be at my side.

Several years ago, I realized something extraordinary, or so I believe.
What does it mean to have a "once-in-a-lifetime dog"? (I'm not sure whether that's a thing, But that's what I call Brody), and when I pet him, I say, "Once-in-a-Lifetime dog," to which my wife responds, "I know, I know his once-in-a-lifetime dog," as she rolls her eyes. Some people understand, while others do not... But I wish they would or are fortunate enough.

I've been fortunate and lucky enough to have some business success, and I formed a reinsurance company - one of the easier chores is naming the company. It's similar to a holding company, and most people name it after anything meaningful in their lives, such as Relative names, activities, passions, or whatever.
I considered numerous things that were important to me, but Brody kept coming to mind, so I name my reinsurance company as a tribute to Brody - it's the least I can do for a "Once-in-a-life-time dog"

I thought you'd enjoy this, and I wanted to let you know that your life's work has blessed me and added more enjoyment to my life than you'll ever know.

Thank you Eve!
-K.U.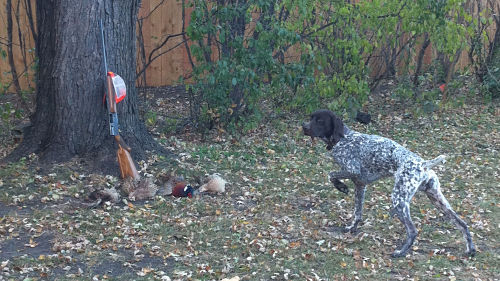 October 27, 2018

You have bred wonderful GSPs for so many of us to love and enjoy. We appreciate your dedication and for being so sweet when we came to get Woody that magical day!
October 6, 2014

Hello Eve,
Oh she is AMAZING, FABULOUS!! I personally never ever saw a pup with such a top quality like she is. She is like a show pony moves everywhere soooo proud and happy!! She loves everyone, never have a fear. She travels with us everywhere. Honestly I don't think I've ever seen such quality in the European show rings.
She is over the first training lesson. As we have regulary huntings and do trainings as well and on Sunday she was with us. She has a power. She used her nose, she wanted to know everything happening around. When she was tired she just stopped in the grass and slept 10 minutes. She is super happy. So more then happy with her here. Enjoy her fully!!!!!
Lots of hugs and lot of thanks for you!!!
- A & D

Linda Has Arrived in Hungary
.... A Bright Future Awaits!!!!

Well never in my life saw such a gorgeous stunning GSP pup before.......totally amazing. Having a temperament like fire. She is temperament super extra have a totally show behavior ......amazing dog. Gorgeous bone and topline. Gorgeous color and head type. And her movement ohhhhhh breathtaking totally!!
Never wish any better than she is.


- A
February 10, 2014

Hi,
Two years ago today we traveled to Franksville in a blizzard to pick up a certain puppy, it was supposed to be for a 30 day trial.
We have loved that certain puppy ever since. He gives us so much joy and happiness and he sure is a lover.
He knows where the refrigerator is, he often stops by it for a hand out.
He's getting a little cabin fever with this weather, he wants to go out and run around the yard. All he has now is paths in the backyard that Don dug out for him.
Thank you Eve for this certain puppy!
Love, D & B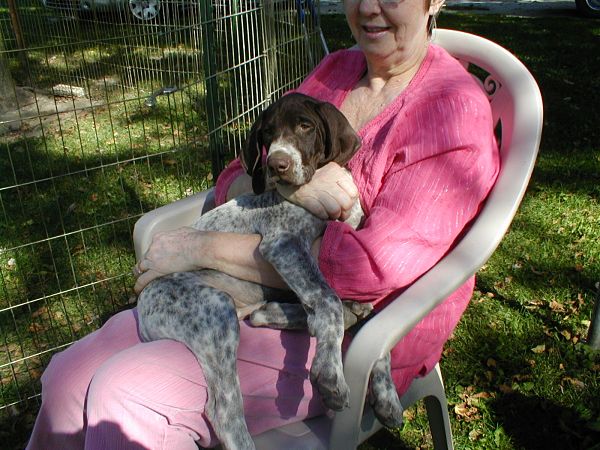 October 21, 2013

Eve…Fall is here!! Just a small update with a couple of photos of Tillie. She went hunting for the first time a week or so ago…still a lot of green cause we have not had frost yet, but she did ok. Boy do I wish I had a dollar for every time someone stops me to say what a beautiful dog you have! She has grown up beautifully!! The other picture is up on her favorite river with her buddy Miller. Love this dog!
~ K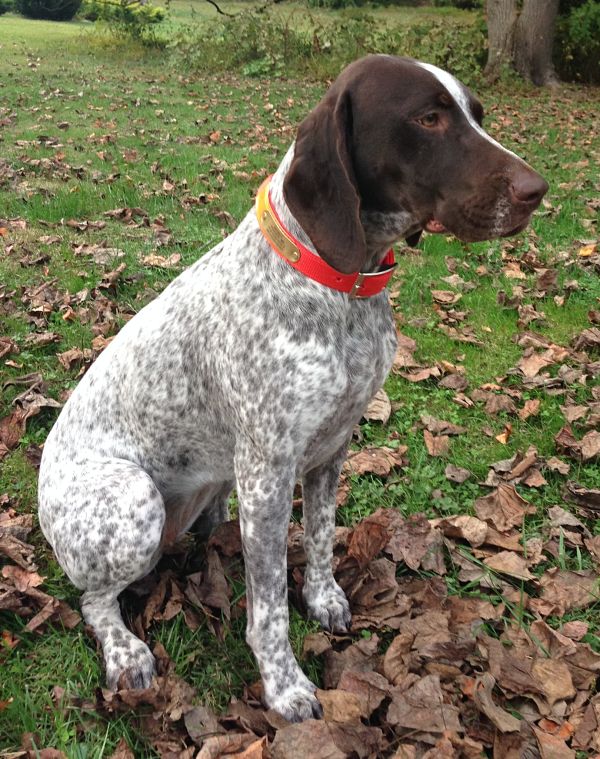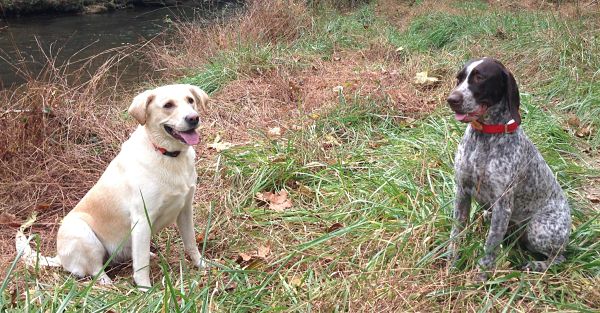 August 21, 2013

Hi guys,
I got me a new camera and took few shots of our boy Bosco (formerly known as Brasil). I must say we never had dog so full of love. It seems like his job # 1 is to give us as much love as possible. He is very smart and has probably the best temper in the world.I have to work him on the leash (because he is almost never on it) but I have to tell you about his behavior off the leash. I never had a German Shorthair behaving so well off the leash. Thank you for letting me have him. The minute I laid my eyes on him I fall in love with him. Regards, S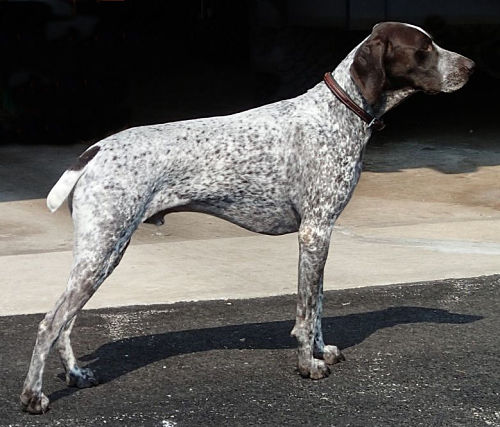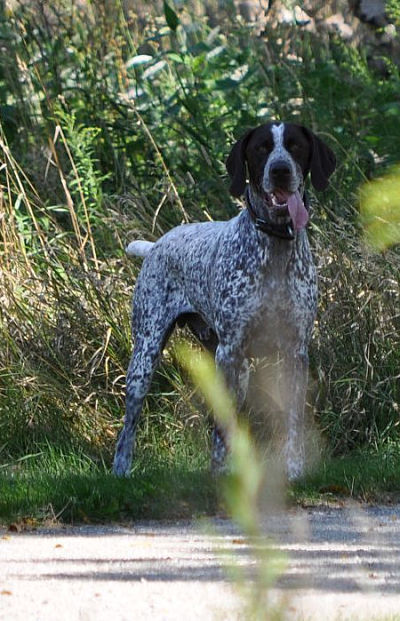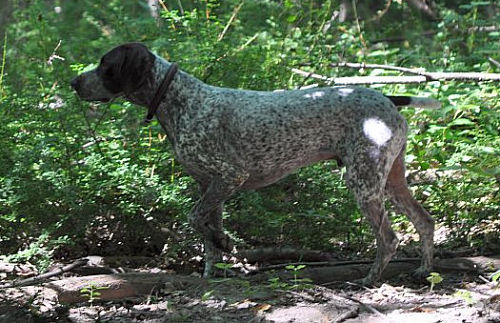 "Bosco"
(BIS GCh Fieldfine's Back In Action & Ch Bleugras Shaggbark She'So Fine!)
June 9, 2013

My boy Bosco is about to be 2 years old (on June 27). His father is Ace
(GCh Fieldfines Back In Action JH
)
. Just wanted to let you know that he is doing great and attached are few pictures from today's run in the woods.
Regards, S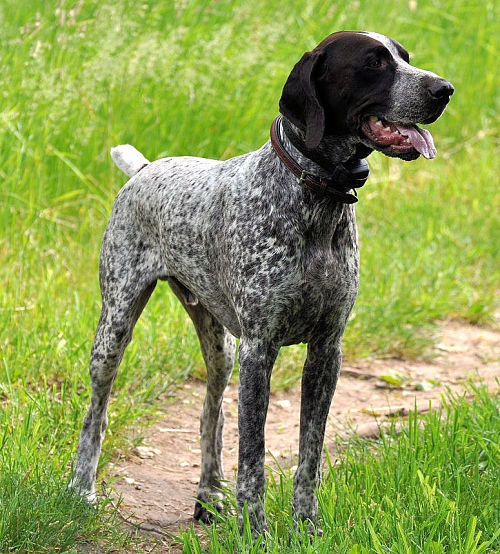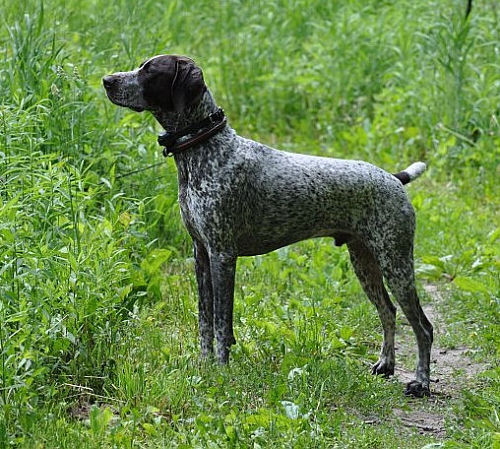 June 8, 2013

Hi,
I am not sure if you remember me, but I have a Paulo daughter out of Ch Southwind Saynga Von Holz... I wanted to let you guys know that Chelsey is now 2 years old and has passed all her clearances. In fact she is OFA excellent. ... She has the most stunning movement with great reach and drive .... just wanted to let you know about her as you are her Dad's owner. Have a great day! ~ C
June 5, 2013


Eve…Thought I would send some updated pictures as we get close to her 6 month birthday! She is starting to like going in the water, one of the pictures is from a river near our home called the Gunpowder and just a couple of weekends ago she started going in on her own. The other is her first visit to a boarding kennel/spa…she did great!! The last is one of her favorite places at home! What a great dog! ~ K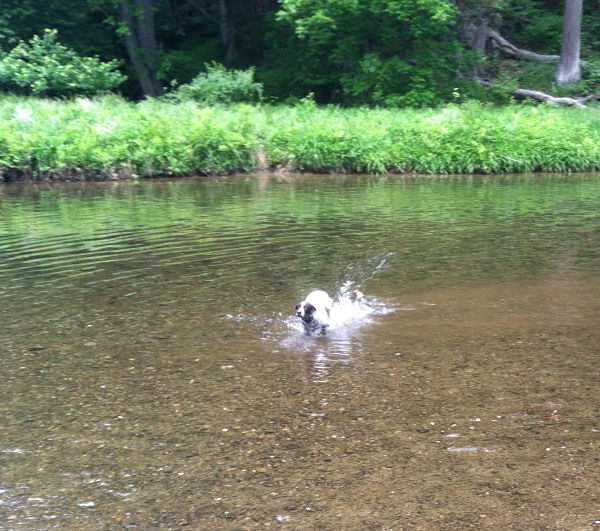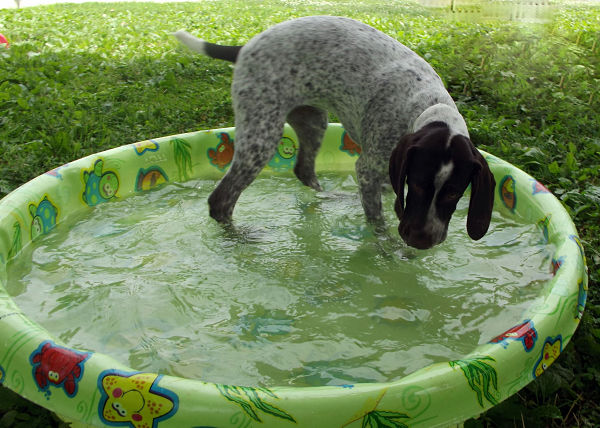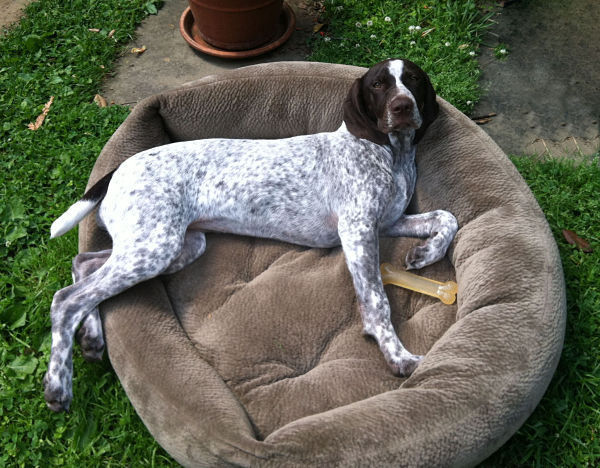 Dogs Are My Heart And Passion! I am so blessed! This just warms my heart! Thank You TM!!
May 29, 2013

I just wanted you to know that we couldn't be more happy with our loving Duke!!!! He is just the best family member! Every single thing about him is perfect!!!! We all LOVE him soooo much! He is so loving, follows us everywhere, and yet a protector. He loves to swim, and is very good at it. We take him almost every week up north in the summer months for long weekends….. and he starts lathering at the mouth when we let him out of the truck in anticipation to get in the water. So after such a hard start to being dog owners we are so happy that we stayed persistent and didn't give up. We are also very blessed to have found you Eve and Bob! Your SUPPORT through our loss of Max, and YOUR KINDNESS in helping us with Duke has made our lives so complete. I couldn't imagine life without him…. So thank you again from the bottom of my heart. If you don't mind we will make a point to stop by with Duke and the family soon…..
Thanks, T M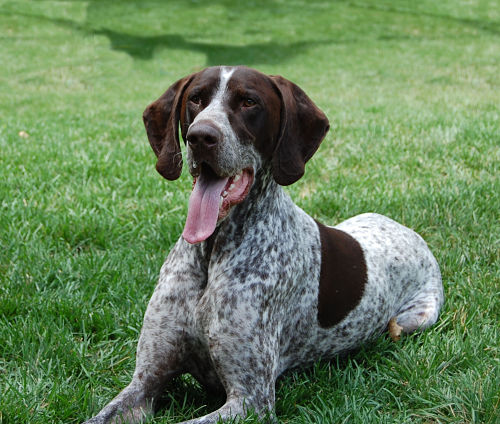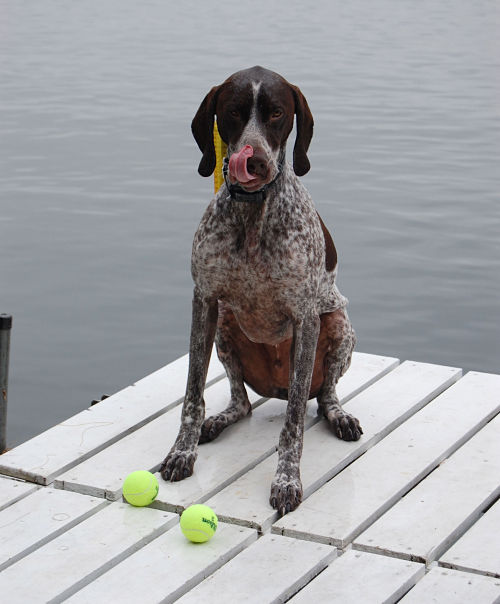 April 17, 2013

EVE…JUST THOUGHT I WOULD SEND YOU A PICTURE OF TILLIE AND HER SWIMMING BUDDY "MILLER". WHAT A GREAT DOG!! LOVES TO RETRIEVE, BEEN SWIMMING TWICE NOW AND LOVES THE BIG BACK YARD AS WELL AS LONG, LONG WALKS IN THE RESERVOIR. VERY BEAUTIFUL COAT TO BOOT.CAN'T SAY ENOUGH ABOUT THIS DOG…WE BOTH LOVE HER.
TAKE CARE…K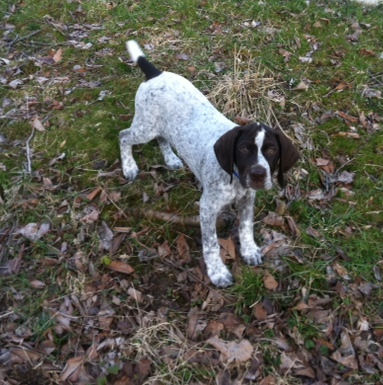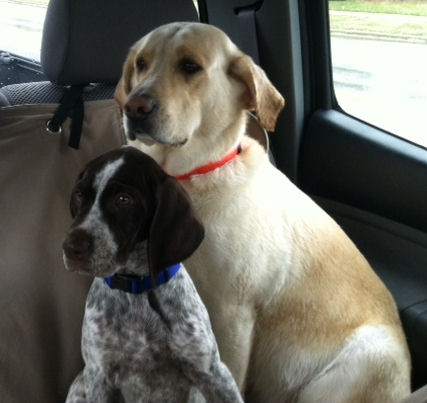 Eve, thought I'd share a photo just taken on our nightly walk. Bleu finished his second hunting season this spring and is progressing VERY nicely; I love my boy dearly!
- J. G.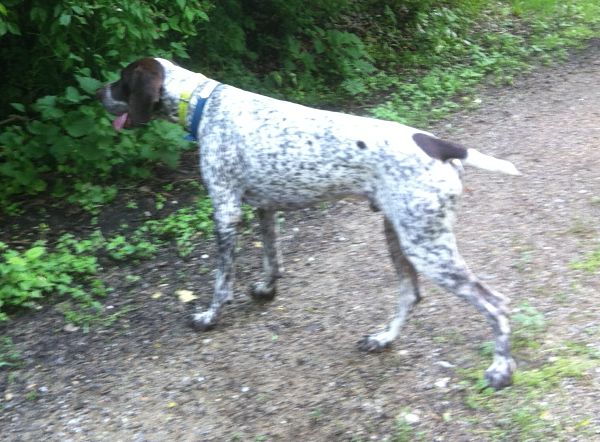 Hi Eve,
"Thank you Eve Parsons and the entire Rost family for making this breeding possible. Through Eve's considered and well planned world renowned Bleugras lines which have added so much to the quality of GSP's worldwide including select contributions from great dogs like Gr. Ch. Fieldfines Back in Action, Ch. Unwillyn Trickadekaphobia, Ch. Minado's Parade Drum Major, Gr. Ch. Bleugras Don't Think Twice to mention a few, who are all stunning specimen and type of the breed to the caring and awesome training/handling/playing by Chris, Michelle, Kayla and Treasa Rost which has made Berry the wonderful girl she is today!! I am soooooo proud to own this special girl now and I will fly your banners high here in South Africa!!"
~ J. T.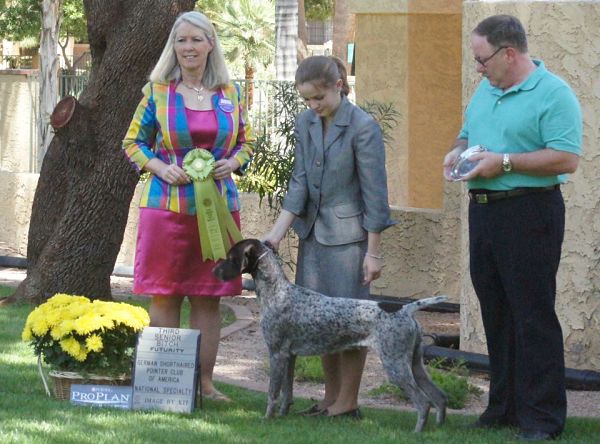 November 11, 2011
Hi Eve,
Just wanted to let you know how thrilled we are with him. He is smart as a whip and seems to have a nose that can sniff an ant through a wall. He is full of the devil of course but he's only 9 mos old. I don't know if you spoiled him rotten because he was there longer but his is the biggest cuddler I've ever had. He will behave perfectly all day if you sit on the couch and let him cuddle with you. And he and our young golden retriever are best of friends and A-Rod will cuddle with him when people aren't available.
Thank you so much for letting us have this wonderful dog. People are just awed when they see him because he looks so noble.
He's made our home complete for us.

Best Wishes,
S. B.
June 29, 2011


Eve: Parker will be 5 yrs old this weekend and it has been a wonderful time and a busy time. He still acts like a puppy, has to steal food, shoes, the remote, chases the cat after he kisses him and we get a small edge of the bed at night. I do not think I have ever enjoyed or loved a dog as much as Parker. On top of that he is such a beautiful pointer, everyone tells him how handsome he is. He spends hours in the spa (schwumming) for the balls at the bottom. We tell him what color of ball to find and he will bring it out of the pool. I could go on, but you bred him so you know how great he is.
Thank you and Happy 4th of July
R. S.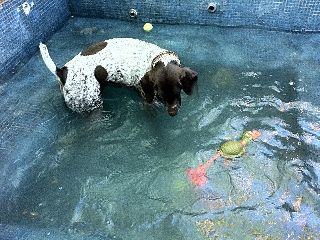 May 23, 2011


Hi Eve,
This dog is more than I ever dreamed of!!! He is calm, biddable, easily corrected by voice, eye, or hand gestures, and so willing to please. He fell in the pond from a bank that is a little steep, swam over 15 feet or so, shook himself off, and kept going. Have had him out and about in town with no problems. This is a confident, happy puppy.
This is a beautiful dog. Lots of reach and drive. His head is to die for. All dogs have their faults and shortcomings, but it might take us a while to see them in this puppy.
Eve, coming from my heart, thank you so much for giving him to me. . .there is something to be said about being able to watch a work of art in motion, and that is exactly what Oz is. The Germans KNEW WHAT THEY WERE DOING when they developed this breed. Oz is birdy as we have seen, and hope to possibly get him an introduction with pheasant soon.
Best, L

Jan. 28, 2011
Hello Eve and Bob,

I'm so sorry that I have not written sooner about life with Willow. She's terrific and we love her to pieces. She's extremely intelligent, playful and loving. She has such a great demeanor and has brought so much joy to our lives. She's a wonderful gun dog. On Willow's first trip to the shooting range we were hesitant to take her too close to where the guns were being fired. I slowly inched our way to the firing range, where she promptly fell asleep. The gun fire did not bother her at all! My husband was delighted. Thank you so much for breeding such wonderful dogs. By the way Willow absolutely enjoys running around on our 10 acre farmette (and hunting mice) YIKES :-)

Thank you so much,
B

Wow what a day!!! Brody harvested four pheasants at Richard Bong Rec. area last Sunday! The weather was perfect and Brody was on his game. Slamming into point, retrieving to hand, and loving every minute! One of the best hunts I've ever had!!! I'm still smiling from ear to ear! Thanks Eve Parsons and Bleugras Kennels for breeding such a wonderful dog.



Bleugras GSP's are not just for show....They can hunt!!

K. U.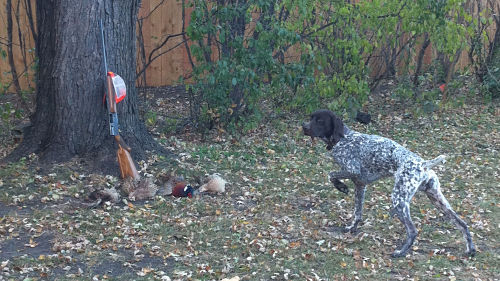 Bleugras 6 Days On The Road
"Brody"
(Ch Bleugras Don't Think Twice & Ch Bleugras BTO Summer Thunder)
August 31, 2009


Hi Eve,
...We absolutely LOVE her!!! She is the best girl and beautiful...She has the best personality and is a great all around dog...We sure are happy with our new family member, wouldn't trade her for the world! Thanks again for this beautiful dog. R.

June 24, 2009


Hello Eve!
...I can't believe where the time has gone! ...We are so happy with her and everyone loves her very much!...P.

June 19, 2009


Dear Eve & Bob,
Want to thank you for letting us have this beautiful little puppy! She is just a joy to have around and I can't remember the last time I laughed so hard and was so happy. She certainly was worth the wait!...All is good for now and thanks again for this very special dog. R.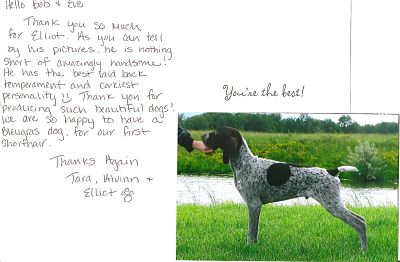 Feb. 03, 2008

Dear Eve,
About 1 1/2 years ago my husband and I came to your kennel for a puppy of our own. ...Casey soon became part of our lives and we were introduced to the world of GSP...This past weekend my husband took Casey pheasant hunting for the second time. He was one of two dogs along, and my husband wondered how things would go as the second dog (a lab) had thousands of dollars of training put into him. I received an enthusiastic call late Saturday afternoon from my husband. Casey acted like a pro out in the field and pointed and retrieved directly back to my husband the whole day! My husband said he out performed the Lab by far and he was so amazed and proud of his puppy! Casey does have the talent and drive and I thank the amazing breeding from your kennel tht instilled that into him.

Thank you so much for our amazing dog, we feel truly blessed that we own such a smart AND attractive looking dog that is the envy of other GSP owners! V.B.

Feb. 20, 2008


Eve & Bob,
Just wanted to say hi and thank you for such a wonderful puppy! Wyatt ("the Duke") has brought us so much joy since we brought him home from your place last July. He has been a great companion on all the camping and hiking trips we've taken. It seems like we get compliments from people on every walk or trip to the dog park! Thought I'd share a photo of Wyatt taken in December for you to see.
Best Wishes, J & B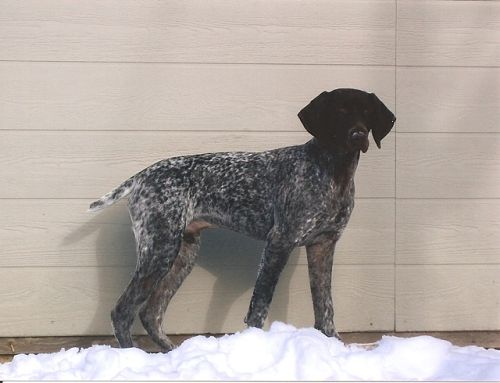 November 11, 2007


Hi Eve, I just wanted to let you know how much we adore our puppy. He is so smart and we are just crazy about him...He loves my two greyhounds...He loves to go with me in the car and they know him at all the drive through windows (bank, pharmacy, etc...). He and I have walking buddies and we take leash walks together around a nearby lake. ...Thanks again. J.W.

August 16, 2007


Eve and Bob:
I know that Alyssa has spoke to you a few times but I just wanted to send you a note to let you know how well the dog is doing.
great, beyond all expectations.
thanks. J, E.L.

July 21, 2007


Just wanted to give you a quick update. This is the best dog ever! ...Totally unbelievable! He instinctively knows, to be more gentle around very young children. 3 kids in D's family were absolutely afraid of dogs. Because of Blaze, they now want a puppy! :) Thank you so much for this wonderful blessing! S. H.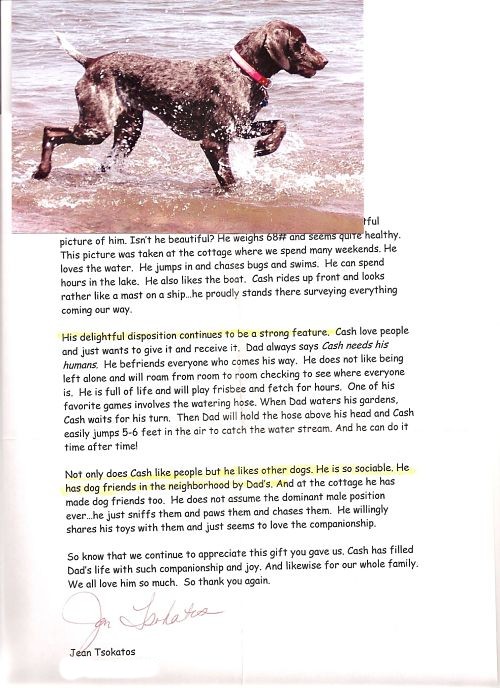 November 1, 2006


Dear Eve & Bob:
I thought I'd fill you in on our Schatze! As I mentioned before - she is to me one of the world's greatest hunters. In fact - all my buddies tell me throughout the year that I spoil her - until they hunt with her - then they realize how good she really is! B.G.

September 18, 2006


Good Morning,
K. and I both love our little girl, she is beyond great and has one of the most wonderful temperaments I've ever seen in a dog. She is adjusting very well, it's almost as if she has been here forever, thank you so much, we are so very pleased with her...J. M.

August 17, 2006


Hi Eve, we wanted to drop you a line and tell you how much we ADORE our puppy! Our Lily is now 17 weeks old and is the smartest and cutest puppy in the world!!...She gets tons of exercise each day running on the paths in the woods, she always comes when she's called!! We also take her out in the boat on weekends and she loves that too!! Right now she's laying by my chair taking a little snooze, but she says Hi. Thanks again for the wonderful puppy. B. & D. S.

May 9, 2006


Dear Eve,
Just wanted you to know what a pleasure it is to have Buzz. A. and I love him...We're running buddies...All of my friends love Buzz and everyone tells me how handsome and sweet he is. He's been a great addition to my life and we're going to be lifelong friends. Thanks so much for such a wonderful dog. Yours, W.

January 28, 2006


Hi Eve and Bob,
THANK YOU! THANK YOU! THANK YOU!
..I cannot find the words to tell you what is in my heart abut the gift you have given dad and me/my family. Cash is absolutely the best canine friend my dad could have wanted. The bond that has formed between the two of them is beautiful to see. They have become such buddies and pals...words fail me...So you wonderful people, know that Cash has been a most wonderful gift in dad's life. I have not seen my dad this alive and happy in some time. We feel God has blessed us and you were the conduit that made it happen. Thank you! J.T.