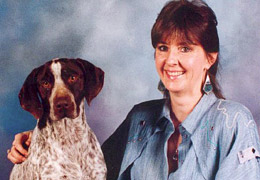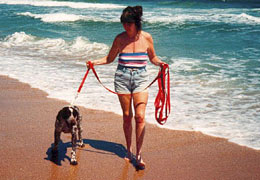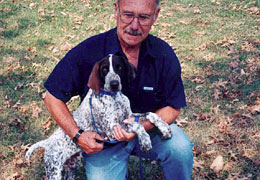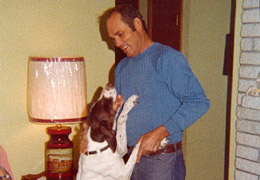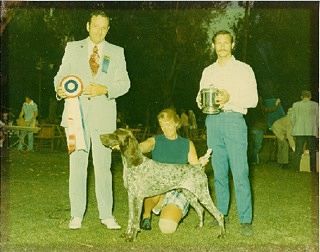 Ch Gretchenhof Columbia River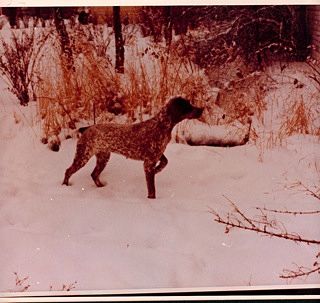 Ch Cede Mein Gadabout Jill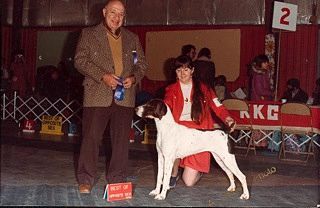 Ch Columbia River Britches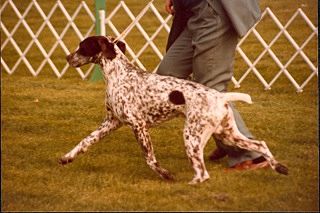 Ch Bleugras Roll On Columbia "Cola"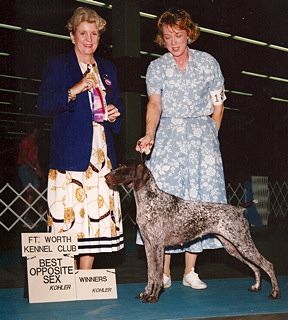 Ch Ricane TX Guns N Bleugr's Roses "Hooters"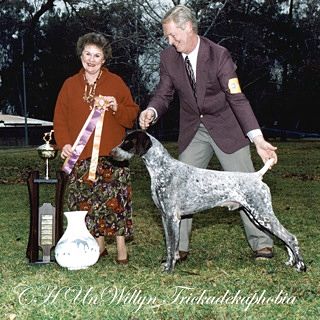 Ch UnWillyn Trickadekaphobia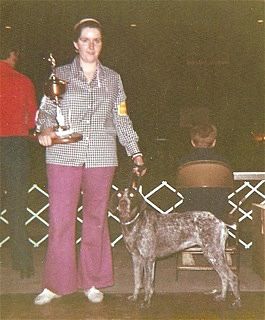 Blue Grass Banjo, CD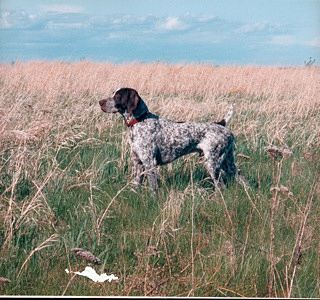 Ch Bleugras Kan-Point TX Reign, SH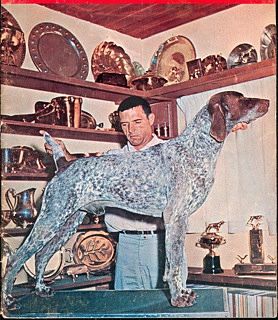 Ch Columbia River Thundercloud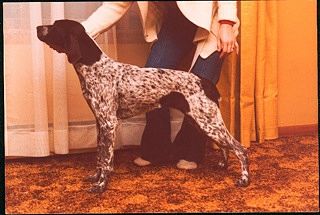 Dunlar Bleugras My Gal Sal
Bleugras History...
For years the PRIDE of the legendary Blue Grass Country in Kentucky, has been the production of the finest thoroughbreds in the world. It is with this same PRIDE and TRADITION of fine breeding that Bleugras in Wisconsin was established in 1970 with our first German Shorthaired Pointer, named BLUE GRASS BANJO CD, the GSPCA Award Winner and #1 Obedience GSP in the US that year.

We have since that time been home to, and/or produced, over 110 Champions, multiple All Time Top Producers, Group and National Specialty winners, obedience and hunt titled dogs. Currently we are breeder co-owner to the #1 male GSP, the multiple Group & Specialty Winner, CH FLOWER CREEK JAZZ N BLEUGRAS. Also on the Top Ten rated Show Dogs is the multi-Group Winner, the handsome CH BLEUGRAS ACROSS THE BRAZOS.

We are dedicated to preserving the outstanding qualities of conformation, movement, temperament, and natural hunting ability so beautifully set in the solid foundation of our stock. All of our breeding stock is OFA'd, SAS checked, and fully guaranteed in writing. All our dogs hunt and many have Hunt Titles. Usually we breed just one litter a year and occasionally we will have an adult Champion or young showdog for sale.

With top dogs in the world, over 43 years of GSP experience - you can easily see why Bleugras dogs are truly Extraordinary German Shorthaired Pointers. I hope to be able to meet with you and introduce you to some of these dogs so you can decide for yourself.
FOUNDATION
Our foundation is based firmly in the Columbia River with 3 sisters, all daughters of the great producer and showdog CH GRETCHENHOF COLUMBIA RIVER, "Traveler",the only GSP to ever win Best in Show at WESTMINSTER! and CR linebred through their beautiful dam, CH CEDE MEIN GADABOUT JILL: To them we added the handsome German Dual Champion ERICK VOM ENZSTRAND, the #1 All Time Top Producer CH ADAM V FUEHRERHEIM--through his son CH WHISPERING PINES PATOS--and the #2 All Time Top Producer of that time, CH STRAUSS'S HAPPY GO LUCKY.
1) CH BLEUGRAS RAMBLIN' RIVER TILLY (& DC/NFC Erick vom Enzstrand) produced All-Time Top Producer,CH BLEUGRAS BANDY V SHADYDELL, multi-Group Winner, and 5 other Champions
2) CH RUDEAN'S COLUMBIA RIVER KATY (& Ch Whispering Pines Patos) produced All-Time Top Producer 17 Champions/ Kennel Review Top Producing Stud 1980, CH BLEUGRAS ROLL ON COLUMBIA "Cola", also a Top Ten Winner himself-- and 5 other Champions.
3) CH COLUMBIA RIVER BRITCHES (& Ch Strauss's Happy Go Lucky) produced All-Time Top Producer CH BLEUGRAS CANDY KISSES.
If you like to study pedigrees, you will find COLA, BANDY, and CANDY behind some of the most successful kennels and winners in existence today.
The 1980s saw our COLA son, CH BLEUGRAS HI-ROLLIN' HUNTABIRD, skyrocket to #2 GSP in the Nation, owner handled (with a little help from our dear friend the late Jack Funk), and remain on the Top Ten for 3 years . A Group Winner, his record included 7 Best in Specialty Shows and over 107 Bests of Breed. A producer of Champions, HI-HI is doubly behind the #1 GSP in the Nation today on her dam's side!!!!
SHOW PRODUCING DAM OF THE YEAR 2000
#5 ALL-TIME TOP PRODUCER IN HISTORY
Our PRIDE of the 90s and into the new century is CH RICANE TX GUNS N BLEUGRAS ROSES, "Hooters". Going back to my original foundation, TILLY, doubly through her All Time Top Producing son CH BLEUGRAS BANDY V SHADYDELL, and again tracing to TRAVELER through her mother line, she was awarded SHOW PRODUCING DAM OF THE YEAR 2000 nationwide by the GSPCA. HOOTERS was bred to 3 different studs --BLEUGRAS ALEGHENY (a COLA son and Grandson), CH PLACER C'NTRY ROCKET'S RED GLARE,(All ADAM & CR) and late in the 1990s, the handsome and flawless CH UNWILLYN TRICKADEKAPHOBIA "Jason" (son of BIS/CH MINADO'S PARADE DRUM MAJOR, "Toby" & the spectacular moving dam CH UNWILLYN SWEET SATISFACTION), owned by Paul & Andi Owens, UNWILLYN, CA with whom she produced 11 of her so-far 17 Champions! Not surprising to note that if one looks one can find JASON'S dam's great grandsire is noneother than CH BLEUGRAS ROLL ON COLUMBIA!
HOOTERS' get include: Multiple Group, Best in Specialty and National Specialty winners, Westminster BOS, #1 rated GSP male in the US 2001 and 2002, 3 Top Ten Rated Champions in 2001, International, Brazilian, Pan American, and Argentina Ch., Senior Hunter title, and a CD! This places our HOOTERS firmly among the TOP 5 PRODUCERS OF SHOW CHAMPIONS in HISTORY!!
HOOTERS' get:
(& CH Unwillyn Trickadekaphobia) CH BLEUGRAS TOO MARVELOUS, "Tutu," finished going Breed over 10 Specials from the BBE class! Now co-owned by Amanda Roberson, CA
CH BLEUGRAS THE DIVINE MISS M, "Emmy", bred to our own BRAZOS, has an AWESOME litter now! Co-O: Macy Hunt, WI
CH BLEUGRAS HOWSWEETITIS, "Sugar", bred to our own BUBBA, her son, Bolero, already a Group Winner in Brazil! O: Matinas Suzuki, Jr., Barretos
CH BLEUGRAS APPLAUSE APPLAUSE, a Group Winner from the Classes owner handled! A Top 20 rated Special! O: Patty Huffman, IL
ARGENTINAN CH, AMERICAN CH BLEUGRAS ASGOODASITGETS, "Tomba-la-Bomba". Breed over 5 Specials at year of age, now a Group winner in SA. O: Matinas Suzuki, Jr., Barretos
CH BLEUGRAS BRAVO BRAVO, finished SO fast with Specialty majors! O: Andi & Paul Owens, Unwillyn, CA.
CH BLEUGRAS BUZZ LIGHTYEAR, the finest dog we've ever produced, multi-Group WINNER at 18 mos of age, Specialty winner and BOS at Westminster 2001. His life was tragically taken at a dog show 2 weeks later--as he moved to #1 rated GSP in the Nation. His only litter was whelped 6 weeks later, the "Dominguez Boyz",
CH BLEUGRAS SWINGINONA STAR, "Rocky", finished CH on his first birthday! O: Doug & LouAnn , CA
CH BLEUGRAS TREFFEN V MYCIN, finished Championship WD/BOW at the National Specialty Show in FL 2001. O: Cynthia McCracken, PA
CH BLEUGRAS FANNIN' THE FLAME, finished going BREED over 5 Specials.
CH BLEUGRAS RISKY BUSINESS, finished a month after Hunting Season! Owner would not let me show him until then! O: Glenn Steven, WI
(& Ch Placer C'ntry Rocket's Red Glare)CH BLEUGRAS ACROSS THE BRAZOS, finished owner-handled Breed over 5 Specials, AND 2 Group 1s! Top Male in US 2001. Invited to AKC/EUKANUBA Inauguaral Show in Orlando, invited to Westminster 2002 (Top 5 in Nation) O: Gerald R Johnson, Jr & Tanya Johnson, MN
INT'L CH, BRAZILIAN, URAGUAYAN, PAN AM, AMERICAN CH BLEUGRAS ABLAZE. Multi-Group Winner Brazil, #1 GSP Brazil 2001. O: Matinas Suzuki, Jr. Barretos, SA
CH BLEUGRAS BELIEVE IN MAGIC, sire of CHs and great hunter. O: Suzanne Dillin, Judge & Breeder Brazos Knl. TX
(& Can CH Bleugras Alegheny)CH BLEUGRAS TEXAS JUSTICE finished CH in 3 weekends of showing with 4 and 5 point majors. Sire of CH FLOWER CREEK JAZZ N BLEUGRAS, Best in Show Dog and currently #1 male in Nation. Sire of many other CHs. AT STUD to approved bitches here.
CH BLEUGRAS INDIAN RIVER OUTLAW SH , "Crockett", A Senior Hunter, he has 2 legs of Master Hunter!
The Following is taken from Bede Maxwell's book, The Complete German Shorthaired Pointer. (ppg 304-311)
C.D. Lawrence, having for health reasons bowed away from the show and breeding scene to which he contributed so much thoughtfully-arranged welding of basic lines, it would seem that the most dedicated retention – the gathering, the using – of the Columbia River inheritance may now be in the hands of a tireless student of pedigree and its application in Mrs. Eve Spanic Atkins, of Wisconsin, building up her Bleugras strain with some very solid-grained Columbia-River-breds that trace not only to rock-basic Columbia River, but add in Fld. Ch. Von Thalberg's Fritz II, through daughter An/Can. Ch. Zeugencarl's Elsa v. Ida (9 chs.-most An/Can. titled). Elsa's daughter, Ch. Cede Mein Gadabout, C.D., is the pipeline – as under:
CH. CEDE MEIN GADABOUT, C.D.

(Am/Can. Ch. Columbia River Moonwatcher/Am/Can. Ch. Zeugencarl's Elsa v. Ida)

Breeder: C.D. Lawrence, Wash.

Owner: G. & N. Hoenig, Idaho

Am/Can. Ch. Cede Mein Chat Nuga Chu Chu (Multiple BIS)

(Am/Can. Ch. Cede Mein Brass Badge)

Am/Can. Ch. Zede Mein Denali Stormcloud

"

Am/Can. Ch. Cede Mein Charo of the Bastion

"

Ch. Cede Mein Gadabout Jill

"

Ch. Cede Mein Thundercloud, C.D.

"

Ch. Cede Mein Cash Flow plus Winsome

"

Ch. Cede Mein Sally

"
It was a daughter of Ch. Cede Mein Gadabout Jill of this breeding that drew attention of Mrs. Eve Spanic (now Atkins) who had been spending much time examining the compilation of pedigrees she had put together over a long period in preparation for establishing a strain of her own. With intended emphasis on Columbia River, she had acquired the Gadabout Jill daughter she named Bleugras Ramblin' River Tilly. Pleased with Tilly, she had made the tremendous plunge of buying in three of Tilly's littermates! They were (later Chs.) Rudean's Columbia River Katy; Columbia River Britches; Columbia River Domino.
"I chose Columbia River for the carefully inbred generations that would save me years of time," Mrs. Atkins explains. "The elderly gentlemen in Idaho who owned Gadabout Jill told me he knew nothing of pedigrees; that Jill was his personal hunting dog and that when it came time to breed her he decided nothing but the best for her. When he was told "Traveller" (Ch. Gretchenhof Columbia River) was the best – that's where Jill went!"
Could be this will prove to be major Columbia River conveyance to end the century – a tremendous venture of building back from four close-bred littermates.
"It seems to be working out," the dedicated student concedes as 1981 draws to a close. "There had been the inevitable heartaches and false starts and wrong directions over earlier years, but now the plan is solidifying and a definite strain emerging."
As to the definte strain: when the four littermates were safe in her yard, she sent Ch. Rudean's Columbia River Katy to Ch. Whispering Pine's Patos (Adam/Tally Ho) recalling that Katy's grandam, was Ch. Gretchenhof Tradewind, Tally Ho's littermate in that fabulous dam production, the Col. River Jills ... Though Adam represented complete outcross, the tireless student was able to dig from her papers, that way back on his dam's side was Ch. Rex v. Krawford, sire of Ch. Columbia River Jill's dam, Helga v. Krawford...
All very complicated, makes the ears buzz in the relation...
From Patos/Katy came Ch. Bleugras Roll On Columbia, with already 12 titled get, of which the most successful to date would be Ch. Bleugras Hi-Rollin' Huntabird (wh. Feb. '79) whose ever-lengthenng win-list, at this time of compilation, counts the Chicago International K.C. and GSPC of Illinois Specialty double, Oct. 1981, as latest honors to include Ch. Bleugras Ramblin' River Tilly, the original purcahse, reaches Top Producng Dam status this same year with a count of 5 titled, Group and Specialty winning produce.
Of course, pedigree unravellings notwithstanding, it still takes two to tango – even the most propotent of bitches can't do it all ... any more than can the most prepotently assesed of sires.
CH. GRETCHENHOF COLUMBIA RIVER

(Gretchenhof Moonfrost ex Columbia River Della)

Breeder: L.V. McGilbrey, Washington

Owner: Gretchenhof Kennels, California

Ch. Bleugras Ramblin' River Tilly

Ch. Cede Mein Gadabout Jill)

Ch. Rudean's Columbia River Katy

"

Ch. Coumbia River Britches

"

Ch. Columbia River Domino

"

Ch. Royal River Ms. G's Fancy Me

(Ch. Cede Mein Mizzen Royal)

Ch. Marlene Schoene Diana

"

Ch. Royal River Spectrum

"

Ch. Columbia River Super Star

"

Ch. Royal River Misty Morn

"

Ch. Country Acres Coumbia Jac

"

Ch. Von Dunwyck Rosie

"

Ch. Shaas River Reflection

(Ch. Shaun Haas von Franzel)

Ch. Shaas River Traveller

"

Ch. Shaas River Racer

"

Ch. Shaas Von Chances Are

"

Ch. Shaas River Boat

"

Ch. Gretchenhof Westminster

(Gretchenhof Moonsong)

Ch. Gretchenhof Windjammer

"

Ch. Gretchenhof Fredericus Rex

"

Ch. Gretchenhof Damfino

(Gretchenhof Moonwalk)

Ch. Jamohr's Moonriver

"

Ch. Jamohr's Harvest Moon

"

Ch. Jamohr's Moon Shot

"

Ch. Hollyhof Colonel Shaas

(Gretchenhof Moondance)

Ch. Gretchenhof Hussong

"

Ch. Hollyhof Dancer's Circle

"

Ch. Hollyhof Dark Town Strutter

"

Ch. Cedarpark Bold Venture

(Ch. Wetherling Whispering Pines)

Ch. Cedarpark Brandywine

"

Ch. Lieblinghaus April Snow

(Ch. Lieblinghaus Snowstorm)

Ch. Lieblinghaus Storm Hawk

"

Ch. Minado's Travelling Salesman

(Ch. Callmac's Mariah v. Minado)

Ch. Xavier's Darth Vader

(Greezee Coronet Brandy Chaser)

Ch. Xavier's Free Spirit

"

Ch. Xavier's Holland's Mischief

"

Ch. Jagerstraum's Bound for Glory

(Ch. DeeTee's Flambeau . Greif)

Ch. Moonraker's Here I Am

(Maggie v. Wildburg, CD)

Ch. Shellbrook's Merry June

(Ch. Shellbrook's Megan)

Ch. Shellbrook's Silver Dollar

"

Ch. Wing King of Brandenburg

(Ch. Heidie v. Brandenburg, C.D.)

Ch. Princess of Brandenburg

"

Ch. Indian Country Columbia Moon

(Ch. Columbia River Moon Mist)